The following is a sponsored post on behalf of Spider-Man: Far From Home Blu-ray Combo Pack. Thank you to Sony Home Entertainment for providing press materials, and opinions expressed are that of my own.
If you have Marvel Fans at home, then I am sure they are excited about the release of Spider-Man: Far From Home to Digital, 4K ULTRA HD™ COMBO PACK, BLU-RAY™ COMBO PACK and DVD!
You know what else I think they will be excited about? Radioactive Spider Cupcakes, a Mysterio Cupcake, as well as Science Experiments inspired by the Film. Keep reading on for more details.
My family enjoyed seeing this movie when it came out in theatres and thought the story line of Mysterio's origin was awesome, definitely full of surprises. Plus, we are just big fans of the way Marvel films incorporate comedy, action, and even romance.
Based on a Marvel Comic book by Stan Lee and Steve Ditko, the film stars Tom Holland (Spider – Man: Homecoming) as Peter Parker, Samuel L. Jackson (Spider – Man: Homecoming) as Nick Fury, Jon Favreau ( The Lion King) as Happy Hogan, Zendaya ("Euphoria") as MJ, and Jake Gyllenhaal (Nightcrawler) as Mysterio.
The Blu-ray, DVD, Digital, and 4K Ultra HD release arrives filled with bonus materials for the whole family including a special short, alternate and extended scenes, gag reels and Easter Eggs!
Additional special features include Teachers' Travel Tips with Mr. Harrington and Mr. Dell and interviews with the cast and crew focused on stunts and location in The Jump Off and Far, FAR, From Home.
Explore how Spider-Man was introduced in the MCU in Stepping Up and get a closer look at the special chemistry between Jon Watts and Tom Holland in It Takes Two.
Fans will want to dive into The Ginter-Riva Effect, Thank You, Mrs. Parker and Now You See Me features for more character focused details. The 4K Ultra HD also features Dolby Vision and Dolby Atmos audio.
Bonus Materials Include:
New Original Short, Peter's To – Do – List: Peter has a few errands to run before he can leave on his class trip.
Teachers' Travel Tips: Mr. Harrington & Mr. Dell present a few tips on how to traverse the European continent.
Stepping Up: Explore how Spider-Man was introduced in the MCU, the ways Tom Holland transformed the character of Peter Parker, and what the future holds for Spider-Man.
Suit Up: The suit doesn't make the hero – but it does play a big role in who they are and who they can become. This piece examines all of Peter's different suits in the movie, and with behind the scenes footage, we see why some suits are better than others.
Far, FAR, Far from Home: The film's illustrious locations serve story points and establish tone, but they're also amazing to travel to! Hear from the cast on their experiences filming on-location.
It Takes Two: A special look at the chemistry between Jon Watts and Tom Holland.
Fury & Hill: MCU stalwarts Cobie Smulders and Samuel L. Jackson are back as Agent Maria Hill & Nick Fury!
The Ginter-Riva Effect: A look at the villain sub-plot and how William Ginter-Riva ties Spider-Man: Far From Home all the way back to the beginning of the MCU.
Thank You, Mrs. Parker: A look at Marisa Tomei's reimagining of Aunt May, from Homecoming to Far From Home.
The Brother's Trust: A quick look into some of the amazing work Tom Holland and his brothers have done through their charity, The Brothers Trust.
The Jump Off: Interviews with the cast & crew take us through all of the amazing stunts of Far From Home.
Now You See Me: We examine the evolution of Mysterio and why Jake Gyllenhaal was the perfect fit for the role.
Stealthy Easter Eggs: Allow E.D.I.T.H. to reveal some of the hidden Easter Eggs you may have missed!
Select Scene Pre – Vis: A side by side comparison of the Pre-Vis with the film
Gag Reel & Outakes
Never-Before-Seen Alternate & Extended Scenes
SPIDER-MAN: FAR FROM HOME has a run time of approximately 129 minutes and is rated PG-13 for sci-fi action violence, some language and brief suggestive comments.
If you want to make our Radioactive Spider Cupcakes, this is what you will need.
Your favorite Boxed Cake Mix
White Icing
Red Food Coloring
Black Decorators Icing
Halloween Spider Rings (Washed and Dried)
Decorative Foil Cupcake Baking Cups
Directions:
Prepare the cake mix according to the packaging for cupcakes. Allow these to cool completely.
Add red food coloring to the white icing and stir until getting the desired color. FYI, I am not an icing expert so mine was a little more pink than red.
Then, add a spider ring to each and then add spider webs with the black icing across the top.
I ended up putting the icing into a resealable bag and cutting a small hole in a corner to squeeze out a very thin line of black icing.
My oldest complemented me that they tasted store bought. FYI, do remind the kiddos to pull the rings out before they eat the cupcakes.
Mysterio Cupcakes
We also decided to give the Mysterio Cupcakes a go, and I think I did a pretty good job with the assembly and playing around with fondant for the first time.
FYI, if you can find Red Fondant, I used red food coloring on white.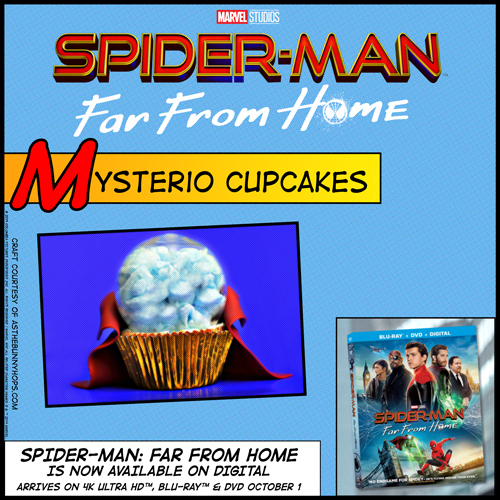 Spider-Man Far From Home Science Experiments
We also tried out the Bending Light Science Experiment and as you tell by my video on Twitter below, it worked and was very cool.
😁 VERY COOL! #ad Checking out the Bending Light Experiment from our #SpiderManFarFromHome Kit! #STEM #Momlife #Science Download the "HOW TO" for this activity HERE>> https://t.co/0PojCQD0AS FYI @SpiderManMovie is NOW out on Blu-ray Combo Pack! pic.twitter.com/gLJVaBLqR9

— Fun Learning Life (@funlearninglife) October 4, 2019
Be sure to also download the Spider-Man Far From Home Science Activity Cards.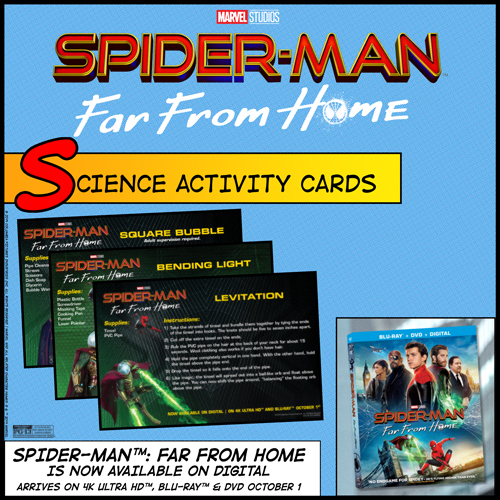 WHO IS YOUR FAVORITE SPIDER-MAN VILLAIN? DO YOU LIKE TO WATCH THE BONUS FEATURES BEFORE OR AFTER THE MOVIE?
I hope your family also enjoys these activities and be sure to check out the giveaway below!
Carlee @ FLL
GIVEAWAY DETAILS
Thanks to Sony Home Entertainment I have been authorized to giveaway Spider-Man: Far From Home shirt, a travel card wallet, and a DVD, to One (1) Lucky Fun Learning Life Reader!* Over a $30 Value!
To enter please follow the directions via the Rafflecopter form below.
a Rafflecopter giveaway
*Participants must be 18 years or older to participate and live in the Contiguous United States. Odds are based on the number of entries, and by participating, you agree to these terms and the laws set forth by your individual state. Entries will only be accepted through the Rafflecopter Form, and Fun Learning Life is not responsible for disruption of the page or service which could cause problems with entering. The winner will be contacted through email (make sure you check your spam or junk mail) with the Subject line "Spider-Man: Far From Home Winner". Shipping information, including email, phone, and address will be collected at that time. The winner has 48 hours to respond, after that an alternate will be chosen, and so on and so forth. Fun Learning Life does not sell personal information. The prize will be fulfilled by the PR Firm. Fun Learning Life does not share information with 3rd parties unless specifically expressed in a specific promotion or giveaway. This giveaway is not associated, nor sponsored by Facebook.