The following is a sponsored post on behalf of Avengers: Endgame Blu-ray. Opinions expressed are that of my own.
When I look forward to owning a DVD or Blu-ray, it is usually because I am excited to see the film for the first time, or I have a real admiration for the movie.
When it came to owning Avengers: Endgame, I have to say that it was basically a tie between the film and the Bonus Extras. The kiddos and I didn't even start the movie until we went through all the Material!
It was truly a gift to watch "Remembering Stan Lee", "Setting The Tone : Casting Robert Downey Jr." and "A Man Out Of Time: Creating Captain America", as a Marvel Fan. However, it got even better with "The Women of the MCU" as well as how Thor transformed in this film with "Bro Thor".
Of course all 3 of my kids were excited to own this Blu-ray and we watched it together as a family. I must say that it was just as good as the first time and I am sure we will be watching it over and over again.
Marvel Studios' "Avengers: Endgame" stars Robert Downey Jr. as Iron Man, Chris Evans as Captain America, Mark Ruffalo as Bruce Banner, Chris Hemsworth as Thor, Scarlett Johansson as Black Widow, Jeremy Renner as Hawkeye, Brie Larson as Captain Marvel, Paul Rudd as Ant-Man, Don Cheadle as War Machine, Karen Gillan as Nebula, Danai Gurira as Okoye and Bradley Cooper as Rocket with Gwyneth Paltrow as Pepper Potts, Jon Favreau as Happy Hogan, Benedict Wong as Wong and Tessa Thompson as Valkyrie. Josh Brolin returns as the film's infamous villain, Thanos.

Marvel Cinematic Universe characters restored to the universe in "Avengers: Endgame" include Benedict Cumberbatch as Doctor Strange, Chadwick Boseman as Black Panther, Tom Holland as Spider-Man, Zoe Saldana as Gamora, Evangeline Lilly as The Wasp, Elizabeth Olsen as Scarlet Witch, Anthony Mackie as Falcon, Sebastian Stan as Winter Soldier, Tom Hiddleston as Loki, Pom Klementieff as Mantis, Dave Bautista as Drax, Letitia Wright as Shuri, Angela Bassett as Ramonda, Michael Douglas as Hank Pym, Michelle Pfeiffer as Janet Van Dyne, Cobie Smulders as Maria Hill, Winston Duke as M'Baku, Linda Cardellini as Laura Barton, and Vin Diesel as Groot with Chris Pratt as Star-Lord and Samuel L. Jackson as Nick Fury. Reprising their roles, Rene Russo returns as Frigga, John Slattery as Howard Stark, Tilda Swinton as The Ancient One, Hayley Atwell as Peggy Carter, Natalie Portman as Jane Foster, Marisa Tomei as Aunt May, Taika Waititi as Korg, William Hurt as Secretary of State Thaddeus Ross and Robert Redford as Alexander Pierce.

Be sure to download these fun Iron Man Activities as well!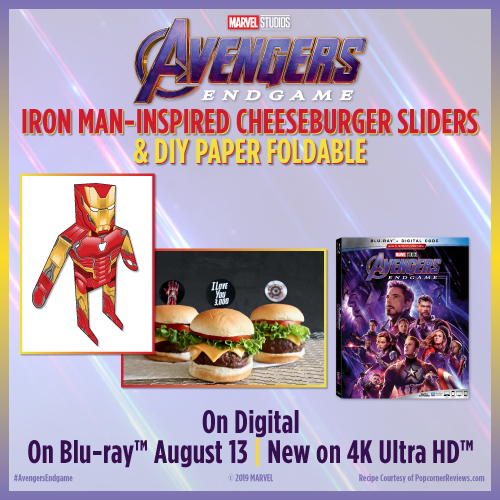 Avengers: Endgame BONUS MATERIAL (may vary by retailer):

Digital Exclusive:
Steve and Peggy: One Last Dance – Explore Captain America and Peggy Carter's bond, forged in moments from previous films that lead to a momentous choice in "Avengers: Endgame."
Blu-ray & Digital:
Remembering Stan Lee – Filmmakers and cast honor the great Stan Lee in a fond look back at his MCU movie cameos.
Setting The Tone: Casting Robert Downey Jr. – Hear the tale of how Robert Downey Jr. was cast as Tony Stark in the original "Iron Man" — and launched the MCU.
A Man Out of Time: Creating Captain America – Trace the evolution of Captain America with those who helped shape the look, feel and character of this compelling hero.
Black Widow: Whatever It Takes – Follow Black Widow's journey both within and outside the Avengers, including the challenges she faced and overcame along the way.
The Russo Brothers: Journey to Endgame – See how Anthony and Joe Russo met the challenge of helming two of the biggest films in cinematic history … back-to-back!
The Women of the MCU – MCU women share what it was like to join forces for the first time in an epic battle scene — and be part of such a historic ensemble.
Bro Thor – His appearance has changed but his heroism remains! Go behind the scenes to see how Bro Thor was created.
Six Deleted Scenes – "Goji Berries," "Bombs on Board," "Suckiest Army in the Galaxy," "You Used to Frickin' Live Here," "Tony and Howard" and "Avengers Take a Knee."
Gag Reel – Laugh along with the cast in this epic collection of flubs, goofs and gaffes from set.
Visionary Intro – Intro by directors Joe and Anthony Russo.
Audio Commentary – Audio commentary by directors Anthony and Joe Russo, and writers Christopher Markus and Stephen McFeely.
After Endgame, I am excited to see what the future holds for the Marvel Cinematic Universe!
Who is your favorite Marvel Character? Do you like to watch the Bonus Features before or after the movie?
I hope your family enjoys the Bonus Material just as much as mine did.
Carlee @ FLL
Giveaway Details
Thanks to Disney DVD I have been authorized to giveaway Avengers: Endgame on Blu-ray a $39.99 Value, to One (1) Lucky Fun Learning Life Reader!*
To enter please follow the directions via the Rafflecopter form below.
a Rafflecopter giveaway
*Participants must be 18 years or older to participate and live in the United States. Odds are based on the number of entries, and by participating, you agree to these terms and the laws set forth by your individual state. Entries will only be accepted through the Rafflecopter Form, and Fun Learning Life is not responsible for disruption of the page or service which could cause problems with entering. The winner will be contacted through email (make sure you check your spam or junk mail) with the Subject line "Avengers: Endgame BLU-RAY Winner". Shipping information, including email, phone, and address will be collected at that time. The winner has 48 hours to respond, after that an alternate will be chosen, and so on and so forth. Fun Learning Life does not sell personal information. The prize will be fulfilled by the PR Firm. Fun Learning Life does not share information with 3rd parties unless specifically expressed in a specific promotion or giveaway. This giveaway is not associated, nor sponsored by Facebook.