A special thank you goes out to Disney for providing me with travel, accommodations, and access to the TOMORROWLAND Sneak Peek at Disneyland With Exclusive Movie Exhibit. Opinions expressed are that of my own.
If you wanted to get further intrigued and excited about the upcoming Disney film called TOMORROWLAND, then you need to make a trip to Disneyland to see the 12 Minute Sneak Peek and explore memorabilia from the past, present, and potential future.
I actually made this journey with a group of bloggers and upon entering the park and the area "Tomorrowland", I was immediately immersed into the original inspiration for this film.
Like Walt Disney said, "Many of the things that seem impossible now will become realities tomorrow!"
To further this nostalgia, I was then taken down a hallway towards a movie theater. As our group strolled along, we saw photos of items and advertisements from the 1964-1965 World's Fair as well as photos from the film TOMORROWLAND.
It was really neat to see reproductions of original signing like that of It's A Small World as well as Retro ads for Greyhound. You could definitely see the enthusiasm for the future and why "There's A Great Big Beautiful Tomorrow".
It was then time to watch the 12 Minute TOMORROWLAND Sneak Peek at Disneyland. This experience will get you emotionally involved with the characters of this film, and will make you feel like you are part of the action.
The sounds are spectacular, the moments are action packed and funny, and you will be moving in your seats right along with the scenes.
I could tell you more about the segment, but I wouldn't want to ruin the experience for you. Plus being there and seeing it first hand, is really EXCITING!
This must-see sneak peek is the first time Walt Disney Studios has teamed up with both parks to showcase an upcoming Disney film with footage and an in-depth look at the making of the film.
It will only be available to the public for a limited time.
After the Sneak Peek, we then ventured over to the TOMORROWLAND Exclusive Movie Exhibit. If you are looking to see awesome props and photos from the set, this is the place to be.
I felt propelled into the future when I started looking at these items, especially the space inspired suits.
We were also able to check out Frank Walker's Jet Pack, photos of scenes from the film, as well as the famous countdown clock featured in Frank's Office.
It was fantastic being that close to actual items used in the movie.
Candy of Candypolooza was on the same Disneyland Trip, and took an excellent photo of The 1952 Box. This famous collection was the starting inspiration for this film.
To see what she also had to say about our adventure visit YOU WANNA GO TO DISNEYLAND'S #TOMORROWLAND? HERE'S YOUR SNEAK PEEK.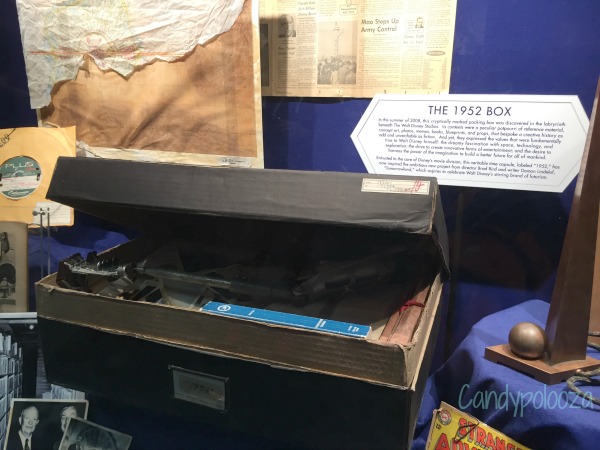 In addition, while visiting Disneyland we also got to learn about the Disneyland Resort 60th Diamond Celebration.
Beginning May 22nd special events will start taking place at Disneyland and California Adventure including the World of Color – Celebrate! The Wonderful World of Walt Disney, Paint the Night Parade, and Disneyland Forever Fireworks Show.
Photo Credit (Scott Brinegar/Disneyland Resort)
Since we ended our day in California Adventure, we got to see the World of Color performance.  Let me just say that the water display with lights and various scenes from Disney Films really took me back to being a kid. FYI, starting May 22 Neil Patrick Harris and Mickey Mouse will appear in film sequences and animated imagery exploring Walt Disney's decades-long legacy of memorable animated moments and his dream of Disneyland park.
As part of this celebration in Disneyland, the Paint the Night Parade will showcase beloved Disney characters illuminated with more than 1.5 million individually controlled LED lights. This is a first in Disneyland Resort history and special appearances will include Tinkerbell, Cars, The Little Mermaid, Frozen, and more!
Photo Credit (Disneyland Resort)
Plus, there will be a fully loaded Disneyland Forever Fireworks Show visible on Main Street, U.S.A., and several Disneyland locations. This performance with pyrotechnics and special effects will turn the storefronts of Main Street, U.S.A., the Matterhorn mountain, the "Fantasmic!" water screens and the facade of "it's a small world" into gigantic projection screens filled with color, characters and even surprises.
Two original songs will be also be featured including the closing song called "Kiss Goodnight," written by Disney Legend Richard M. Sherman. For more information about these events, visit Disneyland Resort 60th Diamond Celebration.
TOMORROWLAND is a riveting mystery adventure starring Academy Award® winner George Clooney. It tells the story of former boy-genius Frank (Clooney), jaded by disillusionment, and Casey (Britt Robertson), a bright, optimistic teen bursting with scientific curiosity, who are bound by a shared destiny and embark on a danger-filled mission to unearth the secrets of an enigmatic place somewhere in time and space known only as "Tomorrowland."
What they must do there, changes the world—and them—forever.
Featuring a screenplay by "Lost" writer and co-creator Damon Lindelof and Brad Bird, from a story by Lindelof & Bird & Jeff Jensen, "Tomorrowland" promises to take audiences on a thrill ride of nonstop adventures through new dimensions that have only been dreamed of.
The film also stars Hugh Laurie as brilliant scientist David Nix, Raffey Cassidy, Tim McGraw, Kathryn Hahn, Keegan-Michael Key and Thomas Robinson.
TOMORROWLAND is in theaters everywhere on May 22nd! For more information visit the official website at Disney.com/Tomorrowland.
After seeing the TOMORROWLAND Exclusive Movie Exhibit are you excited to see the film? Who in your family will you be taking to see this movie?
For additional details be sure to follow myself and other bloggers via the Hashtag #TomorrowlandEvent. Plus, check out the film on Facebook at facebook.com/DisneyTomorrowland and Twitter at @DisneyPictures.
FFM