A special thank you goes out to Disney Home Entertainment for sending my family a Captain Marvel Blu-ray and Digital Code to review with press materials, and for sponsoring this giveaway!
Just in case you haven't heard the news, Captain Marvel is now out on Blu-ray and after watching the film again and checking out the special features, I can tell you that this a film you will want to own!
Now I say this, because it gives you insights into the Marvel Universe that you would have not picked up in other films. Examples of this would be answering questions like "Why does Nick Fury wear an eye patch? or How did the Avengers get their name? and What does a Flerken have to do with an Infinity Stone?"
As I said to my kids after we viewed the movie as well as the cool deleted scenes and special featurettes, I really could watch this over and over again!
Set in the 1990s, "Captain Marvel" is an all-new adventure from a previously unseen period in the history of the Marvel Cinematic Universe that introduces the MCU's first stand-alone, female-franchise title character—Carol Danvers aka Captain Marvel.
Based on the beloved Marvel comic-book series, first published in 1967, "Captain Marvel" stars Academy Award® winner Brie Larson ("Room," "Kong: Skull Island") as Carol Danvers/Captain Marvel, Samuel L. Jackson (Marvel Studios' "Avengers: Age of Ultron," "The Hateful Eight") as Nick Fury, Ben Mendelsohn ("Rogue One: A Star Wars Story," "Mississippi Grind") as Talos, with Annette Bening ("American Beauty," "20th Century Women") as Supreme Intelligence, with Clark Gregg ("Marvel's The Avengers," "Agents of S.H.I.E.L.D.") as Agent Coulson and Jude Law ("Sherlock Holmes," "Fantastic Beasts: The Crimes of Grindelwald") as Yon-Rogg.
The film also includes a talented supporting cast that features Djimon Hounsou ("Blood Diamond," "Guardians of the Galaxy") as Korath, Lee Pace ("The Hobbit: An Unexpected Journey," "Guardians of the Galaxy") as Ronan, Lashana Lynch ("Bulletproof," "Brotherhood") as Maria Rambeau, Gemma Chan ("Crazy Rich Asians," "Humans") as Minn-Erva, Rune Temte ("Eddie the Eagle," "The Last Kingdom") as Bron-Char, Algenis Perez Soto ("Sugar," "Isolated Victim") as Att-Lass, Mckenna Grace ("Gifted," "I, Tonya") as Young Carol Danvers and Akira Akbar ("Grey's Anatomy") as Monica Rambeau.
Captain Marvel Blu-ray & Digital BONUS MATERIAL (may vary by retailer):
Alternate Movie Versions
· Movie with Intro – An introduction by directors/screenwriters Anna Boden & Ryan Fleck.
· Movie with Commentary – Commentary by directors/screenwriters Anna Boden & Ryan Fleck.
Featurettes:
· Becoming a Super Hero – Follow Brie Larson's journey as she joins the MCU, and see what it takes to be a Marvel Super Hero in every sense of the word.
· Big Hero Moment – Explore how impactful Captain Marvel's entrance into the MCU is, and how she inspires audiences around the world.
· The Origin of Nick Fury – Witness some of the MCU's most significant events through Nick Fury's eyes, and see how his influence helped shape the MCU.
· The Dream Team – Discover why Anna Boden & Ryan Fleck are the perfect pair to direct Marvel Studios' most powerful hero.
· The Skrulls and the Kree – Take a deeper look into the Skrulls and the Kree, their ongoing conflict, and the importance of shifting perspectives in the film.
· Hiss-sterical Cat-titude – The cast and crew dish on working with Goose and the raw talent it takes to portray such a complex character on-screen.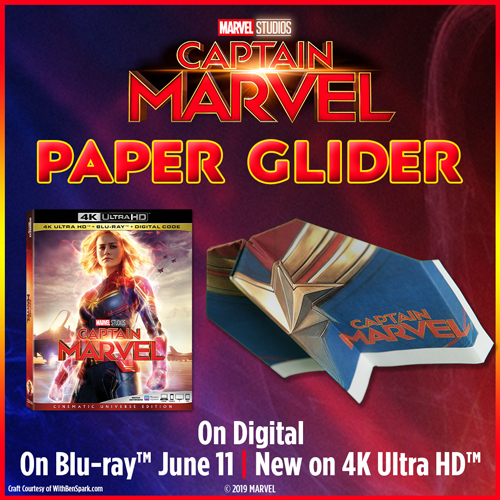 Deleted Scenes
· "Who Do You Admire Above All Others?" – Kree Commander Yon-Rogg must answer to the Supreme Intelligence, who questions his leadership ability.
· Starforce Recruits – Yon-Rogg lectures a roomful of students on the Kree's mission to defend all nations from the scourge of the Skrulls.
· Heading to Torfa – Vers (Danvers) and her fellow Starforce members banter as they prepare for their rescue mission to Torfa.
· "What, No Smile?" – In this alternate version of a scene from the movie, Vers is consulting a map when she receives a dubious offer of assistance.
· Black Box – Keller attempts to track Vers and Fury after their escape in a quadjet from the Joint USAFA Facility.
· Rookie Mistake – Novice S.H.I.E.L.D. agent Phil Coulson helps Director Keller out of an embarrassing situation.
· Gag Reel – The fate of the universe hangs in the balance as the cast battles props, flubs and Flerkens in these outtakes from the set.
Captain Marvel Digital Exclusives:
· Journey into Visual Effects with Victoria Alonso – Experience how filmmakers' visions of the MCU come to life on-screen through the skill of the Visual Effects team.
· What Makes a Memory: Inside the "Mind Frack" – What does it take to craft an action-packed sequence for a Marvel Studios film? Nothing short of an epic team effort!
· Concept Art – Explore artwork from "Captain Marvel" and trace the visual development of characters.
· On-Set Images – Uncover a trove of behind-the-scenes and production photography.
CAPTAIN MARVEL is NOW out on Digital, Blu-ray, and 4K Ultra HD!
Did you see this film when it originally came out? What is your favorite scene in the movie? If not, what is your favorite Avengers Character?
I hope your family gets an opportunity to bring home Captain Marvel on Blu-ray and enjoys watching the special features together!
Plus, don't forget to download your very own Captain Marvel Printable Paper Glider, just click any of the Glider images above. We made ours with the graphic on top vs the bottom, and it really does fly!
Carlee @ FLL
GIVEAWAY DETAILS
Thanks to Disney DVD I have been authorized to giveaway Captain Marvel on Blu-ray a $39.99 Value, to One (1) Lucky Fun Learning Life Reader!*
To enter please follow the directions via the Rafflecopter form below.
a Rafflecopter giveaway
*Participants must be 18 years or older to participate and live in the United States. Odds are based on the number of entries, and by participating, you agree to these terms and the laws set forth by your individual state. Entries will only be accepted through the Rafflecopter Form, and Fun Learning Life is not responsible for disruption of the page or service which could cause problems with entering. The winner will be contacted through email (make sure you check your spam or junk mail) with the Subject line "Captain Marvel BLU-RAY Winner". Shipping information, including email, phone, and address will be collected at that time. The winner has 48 hours to respond, after that an alternate will be chosen, and so on and so forth. Fun Learning Life does not sell personal information. The prize will be fulfilled by the PR Firm. Fun Learning Life does not share information with 3rd parties unless specifically expressed in a specific promotion or giveaway. This giveaway is not associated, nor sponsored by Facebook.