A special thank you goes out to Disney Home Entertainment for sending my family a MARVEL STUDIOS BLACK PANTHER BLU-RAY and providing press materials along with party supplies for a movie night. Opinions expressed in this post are that of my own.
My family has been following the Marvel Cinematic Universe for while now, so lets just say that we have become very invested in these characters as well as their ever evolving stories.
Black Panther  which is now out on Blu-Ray, is a film that has continued the exciting adventures as well as created a world of special effects expanding the technology of Vibranium in the Marvel Realm. There is just so much to absorb in regards to this production and I was looking forward to owning a copy of the Blu-Ray so we could watch it over and over again.
My youngest son has been pretty obsessed with it as well, (Running around the house with Captain America's Shield, Hulks Fists, and Thor's Hammer) so when a package arrived from Wakanda he just knew that it was for him.
Not only did I find a set of Black Panther BINGO CARDS and chips in the box, but we also found Black Panther Themed Plates and Napkins along with a soft Throw Blanket. My little guy immediately claimed the Black Panther blanket as his own.
Now to celebrate all the goodies we received, we had a movie night and I also made up the kiddos a Vibranium Popcorn Mix in special ribbon cups.
If you would like to recreate this recipe, check out details below, see what is included on the Black Panther Blu-ray, and print your very own set of BINGO CARDS.
About MARVEL STUDIOS BLACK PANTHER:
In the acclaimed film, T'Challa returns home to the hidden high-tech African nation of Wakanda to succeed to the throne and take his rightful place as king, following the death of his father. But when a man named Killmonger (Michael B. Jordan) appears, T'Challa's mettle as king—and Black Panther—is tested when he's drawn into a formidable conflict that puts the fate of Wakanda and the entire world at risk.
Pitted against his own family, the king must rally his allies and release the full power of Black Panther to defeat his foes and embrace his future as an Avenger.
The film features a fierce group of Wakandan women, including Nakia (Academy Award® winner Lupita Nyong'o), a War Dog and Wakandan spy; Shuri (Letitia Wright), T'Challa's little sister and tech wizard; and the Dora Milaje, the all-female Wakandan Special Forces led by Okoye (Danai Gurira). They team up with reluctant ally CIA agent Everett K. Ross (Martin Freeman) to help T'Challa defend Wakanda against the forces threatening to destroy it.
The extraordinary ensemble cast of "Black Panther" also includes veteran actors such as Academy Award® nominee Angela Bassett as Ramonda, T'Challa and Shuri's mother; Academy Award® winner Forest Whitaker as Zuri, the spiritual leader of Wakanda; and Andy Serkis as Ulysses Klaue, an illegal arms dealer; and standout performances by Academy Award® nominee Daniel Kaluuya as W'Kabi, Royal Counsel to T'Challa; Winston Duke as M'Baku, the formidable leader of the Jabari tribe; and Emmy® Award-winner Sterling K. Brown as N'Jobu, a Wakandan War Dog.
The action in "Black Panther" is intensified through a musical score by GRAMMY®-nominated composer Ludwig Göransson and soundtrack curated and produced by GRAMMY® Award-winning global superstar Kendrick Lamar and Billboard Magazine's Executive of the Year Anthony "Top Dawg" Tiffith. "Black Panther: The Album" topped the Billboard 200 chart for five consecutive weeks and the end-credit track, "All The Stars," featuring Lamar and SZA, spent nine weeks in the top 10 on Billboard's Hot 100 chart.
· Director's Intro
· From Page to Screen: A Roundtable Discussion – Delve into the film's making
· Crowning of a New King – Explore the world of "Black Panther" in all its color and complexity
· The Warriors Within – Get to know Wakanda's women and the actors who portray them
· The Hidden Kingdom Revealed – Wakanda's diverse people
· Wakanda Revealed: Exploring the Technology
· Deleted Scenes
· U.N. Meet and Greet
· Okoye And W'Kabi Discuss the Future of Wakanda
· T'Challa Remembers His Father
· Voices from the Past
· Gag Reel
· Exclusive Sneak Peek at "Ant-Man and The Wasp"
· Marvel Studios the First Ten Years: Connecting the Universe
· Director's Commentary
Black Panther Digital Exclusives:  In World Wakanda Tourism Ads
· Come to Wakanda "Before"
· Come to Wakanda "After"
*(BLACK PANTHER BLU-RAY may vary by retailer)
Vibranium Popcorn Mix
Ingredients:
Bag of  Microwavable Popcorn
Mini Pretzel Twists
Silver Sixlets
Blue Food Coloring Spray
Powdered Sugar
To make the cups:
Black Paper Cups
Blue Ribbon
White Ribbon
Hole Punch
Scissors
Directions:
In advance, first create the cups. I simply used a whole punch to make a whole in the side of a paper cup and then cut 24 inches of each color of ribbon.
I then tied that ribbon through the hole into a bow and curled the strands.
To get started with the mix, I first popped the bag of popcorn. Then, layered the popcorn, pretzels, and Silver sixlets (Vibranium).
As I guide, I used 1/4 Cup Popcorn removing any unpopped kernels, 1/4 Cup Mini Pretzels, and 10 Sixlets for each layer.
On the top layer, I put another layer of popcorn, sprayed a small amount of blue food coloring, and finished it with 5-6 Pretzels, 5 Sixlets, and sprinkled powdered sugar. Tip: Makes 8 to 10 servings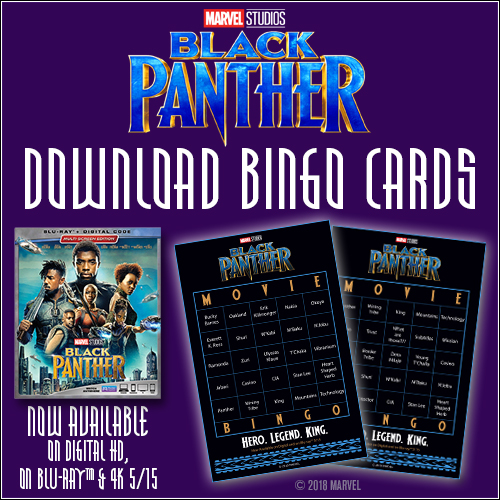 Which special feature or features are you looking forward to seeing on Black Panther?
To learn more about the film, check it out at Marvel.com as well as on Facebook at Facebook.com/BlackPantherMovie, Twitter at  Twitter.com/TheBlackPanther, and Instagram at Instagram.com/BlackPanther. Plus, be sure to print these Black Panther Bingo Cards for your upcoming Black Panther Party!
Carlee @ FLL
Giveaway Details
Thanks to Disney DVD I have been authorized to giveaway a Black Panther Digital Copy to One (1) Lucky Fun Learning Life Reader!
To enter please follow the directions via the Rafflecopter form below.
*Participants must be 18 years or older to participate and live in the United States. Odds are based on the number of entries, and by participating, you agree to these terms and the laws set forth by your individual state. Entries will only be accepted through the Rafflecopter Form, and Fun Learning Life is not responsible for disruption of the page or service which could cause problems with entering. The winner will be contacted through email (make sure you check your spam or junk mail) with the Subject line "Black Panther Digital Copy Winner". Shipping information, including email, phone, and address will be collected at that time. The winner has 48 hours to respond, after that an alternate will be chosen, and so on and so forth. Fun Learning Life does not sell personal information. The prize will be fulfilled by the PR Firm. Fun Learning Life does not share information with 3rd parties unless specifically expressed in a specific promotion or giveaway. This giveaway is not associated, nor sponsored by Facebook.