A special thank you goes out to Disney Home Entertainment for sending my family a copy of Lady and the Tramp from The Walt Disney Signature Collection Blu-Ray to review. Opinions expressed about the film and my Puppy Frame Craft featured in this post are those of my own.
If I think about the movies I watched as a child, I have to say that one of the most memorable new puppy scenes was the moment when Jim Dear presents Darling with a gift of a Cocker Spaniel in the Disney animated feature "Lady and the Tramp". My children and I recently got to see this again and expressed our own puppy love through a fun Frame Craft.
A new pet is always exciting and my kiddos have been getting to know my sister in law's new fur baby.
Between seeing the "Lady and the Tramp" Blu-Ray Special Features with Walt Disney's own experiences dogs as well as taking advantage of puppy kisses with an adorable German Shephard, well lets just say that we all have Puppy Fever now.
After exploring the Blu-ray, and revisiting a great film, it was really cool to see the relationship that Walt and his family had with dogs and interesting to see how those periods of time influenced the production of "Lady and the Tramp".
Now I have been snapping photos of my Sister In Law's Pup and after a great shot and some thought, my daughter and turned one of those adorable faces into a Puppy Frame Craft. Read on for our activity tutorial as well as details of what is included in the "Lady and the Tramp" Walt Disney Signature Collection Blu-Ray and Digital Release.
What you will need to recreate this Puppy Frame Craft:
Unfinished Wooden Plaque
Construction paper
Glue Stick
Photo
Scissors
(Thank you to Craft Project Ideas for the happy mail with a Heart Plague, Paint, and Gem Stickers. FYI, these items are available at Walmart)
Directions:
To get started with the Puppy Frame Craft, first select a photo to use. I ended up ordering a few of the same just in case I cut it wrong.
My daughter then painted the frame and we allowed it to dry. This plaque could also be left unfinished.
Next, we determined where the photo would go and cut a heart shape from the construction paper.
I had to experiment with it to make sure it was large enough to cover the picture, and then cut the inside of the paper to create matting.
After that, we made cuts to the photo to fit the heart.
We then pasted both the picture and the construction paper to the Puppy Frame Craft.
It was then embellished with gems and left to set. FYI, we decided to leave the pup's name off, but it could be added on with paint or a magic marker.
As you can see, this Puppy Frame Craft, turned out so cute and I can't wait for my Sister In Law to see it.
About "Lady and the Tramp" Walt Disney Signature Collection Release:
As one of the greatest love stories ever told, "Lady and the Tramp" is sure to melt the hearts of generations with its beloved characters, brilliant animation, memorable music and sweet sentiment. The animated treasure tells the story of Lady, a lovingly pampered cocker spaniel, and Tramp, a freewheeling mutt with a heart of gold. Through the Signature Collection edition, viewers can relive the pair's thrilling adventures, sing along with the film's unforgettable songs like "Bella Notte," and swoon over one of the most memorable movie moments of all time—the iconic scene in which Lady and Tramp share a plate of spaghetti and an accidental kiss.
"Lady and the Tramp" is the sixth title to join the Walt Disney Signature Collection, which includes groundbreaking films created or inspired by the imagination and legacy of Walt Disney, featuring timeless stories and characters that have touched generations. The film takes its place alongside "Snow White and the Seven Dwarfs," "Beauty and the Beast," "Pinocchio," "Bambi" and "The Lion King."
Bonus Features on "Lady and the Tramp" Walt Disney Signature Collection BLU-RAY & DIGITAL*:
Film Versions
Original Theatrical Edition – Enjoy this cherished Disney classic that captivates audiences of all ages.
Sing-Along Mode – Sing along with all your favorite songs as you watch the movie.
Inside Walt's Story Meetings – As you view the film, hear reenactments of Walt's story sessions with animators and see how their ideas were realized on-screen.
New Signature Bonus
Walt & His Dogs – Through archival recordings and photos, hear the tales of the dogs Walt Disney owned and loved over his lifetime.
Stories from Walt's Office – Take a tour of Walt's office suite on the Studio lot, carefully re-created to look just as it did when he occupied it.
How to Make a Meatball and Other Fun Facts About "Lady and The Tramp" – Watch a delicious lesson on how to make perfect meatballs with teen chef Amber Kelley and Oh My Disney Show Host Alexys Gabrielle.
Songs
"Peace on Earth"
"What Is a Baby/La La Lu"
"The Siamese Cat Song"
"Bella Notte"
"He's a Tramp"
Classic Bonus Features
Diane Disney Miller: Remembering Dad – Walt's daughter shares memories of her father and Disneyland's early days, as well as a look at his apartment above the firehouse.
Never-Recorded Song – "I'm Free as the Breeze" – Take a listen to a song originally meant to be sung by Tramp.
Deleted Scenes
Introduction of Boris – Tramp wasn't always meant to be Lady's only suitor. Meet Boris the aristocrat and Homer the peasant in this deleted scene.
Waiting for Baby – Lady watches as Jim Dear plans out his new son's future in this early storyboard.
Dog Show – See the storyboards for this deleted scene in which Lady and Tramp unexpectedly find themselves in the middle of a dog show.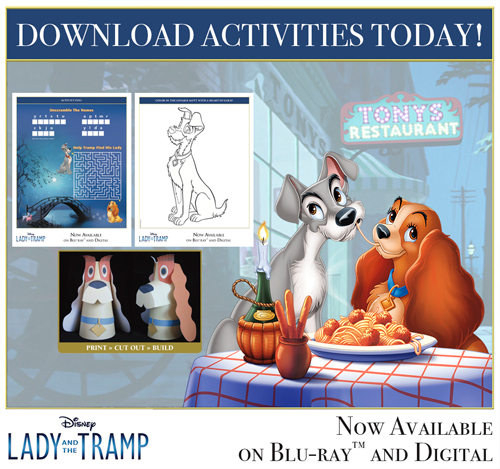 Classic Bonus Features on Digital Only*
Lady's Pedigree: The Making of "Lady and the Tramp" – A behind-the-scenes look at the making of Walt Disney's first feature-length animated film based on an original story.
Finding Lady: The Art of the Storyboard – Explore the origins of the storyboard and how they're used by filmmakers today.
Original 1943 Storyboard Version of the Film – View a unique presentation of the original 1943 storyboards for "Lady and the Tramp."
PuppyPedia: Going to the Dogs – Wild and wacky comedian Fred Willard takes us on an outing to the dog park to learn all about dogs and their owners.
Deleted Scenes
Turning the Tables – In this story-reel presentation, Tramp dreams of a world where dogs run the show and humans are on the other end of the leash.
The Arrival of Baby – In this alternate scene re-created from original storyboards and with original voice talent, Lady makes way for a new arrival.
Baby Arrives – Lady is baffled by the strange goings-on in the house—the arrival of a squealing bundle only deepens the mystery.
Lady's Sweater – Lady gets a new sweater for her birthday and must figure out an ingenious way to lose it for good.
Trailers
1955 Original Theatrical Trailer – More than just a trailer, this preview features several minutes of footage from the film and introduces each major character.
1972 Theatrical Re-Issue Trailer – This trailer from the 1972 rerelease heralds Disney's "happiest motion picture."
1986 Theatrical Re-Issue Trailer – Released theatrically for the 1986 holiday season, this trailer highlights the love story between Lady and the handsome Tramp.
*Bonus features may vary by retailer
Which special feature or features are you looking forward to seeing on the "Lady and the Tramp" Walt Disney Signature Collection BLU-RAY?
To learn more about the "Lady and the Tramp" Walt Disney Signature Collection visit Movies.Disney.com/Lady-and-the-Tramp and also check out Facebook: facebook.com/DisneyLadyandtheTramp. Be sure to also continue the fun with Printable Lady and the Tramp Activity Sheets and Ideas!
I hope you enjoy the film, and our Puppy Frame Craft inspires a future activity with your own family! I expect to be making one of these for a future new puppy at our house very soon.
Carlee @ FLL
Giveaway Details
Thanks to Disney DVD I have been authorized to giveaway a "Lady and the Tramp" Walt Disney Signature Collection BLU-RAY to One (1) Lucky Fun Learning Life Reader!
To enter please follow the directions via the Rafflecopter form below.
*Participants must be 18 years or older to participate and live in the United States. Odds are based on the number of entries, and by participating, you agree to these terms and the laws set forth by your individual state. Entries will only be accepted through the Rafflecopter Form, and Fun Learning Life is not responsible for disruption of the page or service which could cause problems with entering. The winner will be contacted through email (make sure you check your spam or junk mail) with the Subject line "Lady and the Tramp" Walt Disney Signature Collection BLU-RAY  Winner". Shipping information, including email, phone, and address will be collected at that time. The winner has 48 hours to respond, after that an alternate will be chosen, and so on and so forth. Fun Learning Life does not sell personal information. The prize will be fulfilled by the PR Firm. Fun Learning Life does not share information with 3rd parties unless specifically expressed in a specific promotion or giveaway. This giveaway is not associated, nor sponsored by Facebook.